I think OPT was a success! Faythe wrote about the purse on her blog, describing it as
awesome.
YESSSSS!
This project was a milestone for me. First, because I was attempting something like intarsia (which went well because really...the felting hid most mistakes) and second, because I had to "wing it" with the pattern and adding a purse liner. So, using some graph paper, here's Faythe's Bad Kitty logo I wanted to replicate:

I took a picture of the modified Sophie before felting and included a bottle of Oil of Olay for size comparison but forgot to take a pic of it with the same bottle when I was finished. D'oh! There is a measuring tape at the bottom though, if you can see it.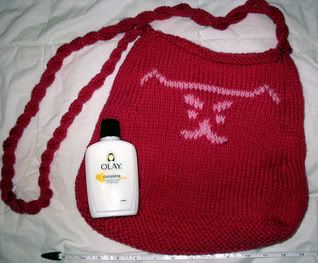 I felted this sucker in the bathtub with some gentle body soap while reading a book. I think you're supposed to use Dawn or something, but this seems to work for me.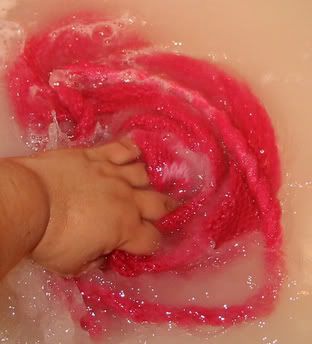 This time, rather than stoop over the tub, I sat down next to it and agitated the purse while reading The Age of Innocence.
Now, Simba loves the bathtub; he's always running and hiding in it! But after oh...15 minutes or so of agitating, he really got freaked out. He wasn't sure what I was doing in there and came to investigate. When I tried to pet him he ran away like I was about to administer some Advantage.
If you look carefully, you can see his luxury-sized cat box in the background. Yes, it's a huge Rubbermaid container. I don't think my cats will ever be able to go back to the normal size cat box.
After the purse dried, I added a liner. I thought it was necessary because of the inside funkiness created by my attempt at felted intarsia and really...I think it was exactly what the purse needed!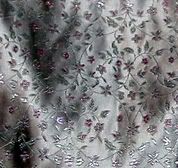 I hand sewed it into the purse itself and because I didn't choose a liner that's the same color as the wool I had to carefully sew this into the purse without the white stitches showing. Fortunately, it wasn't as hard as I thought it would be.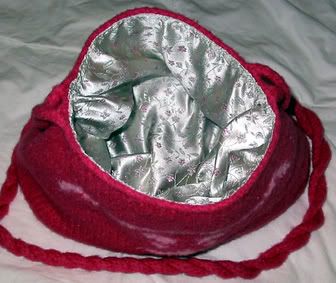 Well, here's the final product. I'm pretty happy with it. I'm not sure why the ears ended up that way, but still, I'm happy! I have at least one request for the same purse but in red and black.