Phew, it sure is nice to rest in your own home, you know? Nothing like kicking back, spending a nice relaxing evening serving your pets (yes, I'm a servant to the royalty, I'm not stupid). Today when I came home, Zoe was enjoying the cat shelf. Lately she and Simba have been avoiding their favorite new cat tree. Incredible, I know! Zoe was sleeping in it so much we were afraid she was going to get bed sores. She would run off to gobble up some food, visit the litter box, or drink water, and then leap back onto the tree in record time so Simba couldn't enjoy it. Needless to say, it's very surprising they're avoiding the cat tree. Maybe the novelty has worn off?
Of course now that they've focused on the cat shelf we installed a couple feet just below the ceiling, they're constantly fighting over who gets to "own" it! Here's my baby peering down at me.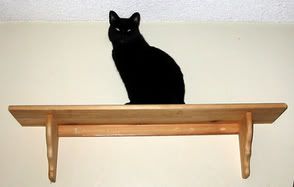 Before long, some birds flew up to the bird feeder and started eating dinner. It's hard to see them, but there's three in this photo. I had to take the photo on the sly and through the screen because they kept flying away when I'd try to take a pic. You can see some of my newly planted, fledgling petunias too.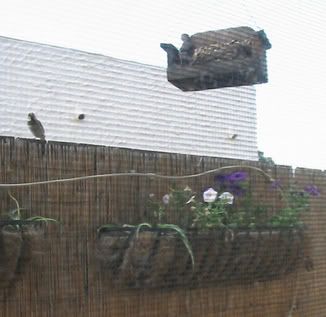 Of course, one of the reasons we have the bird feeder is to provide "Cat TV." It's also cool to see all the various birds that fly through either going north for the summer, or south for the winter. Wait a minute, we are south. Are they wintering in San Diego? Hmm...probable. We also see the occassional parrot and parakeet. Anyway, when the birds arrived, Zoe couldn't resist, and had to inspect.
Next she balanced on the edge of the cat tree and poked her stub nose through the blinds to look at the birds. I liked the contrast of light verse dark, so I deliberately took some of these photos without a flash.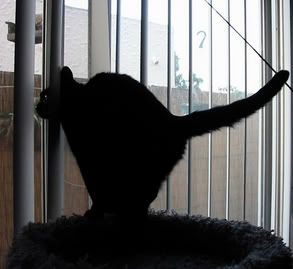 Unfortunately, the birds flew away. They ate their fill and took off when they saw the ferocious predator staring them down a mere two feet away.
Zoe was quite content and took on her pose that means, "Massage me now, wench."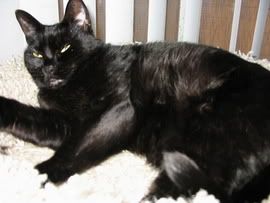 I of course, took this as an excellent opportunity to get a good photo of her using natural lighting. Look how the light is shining on her fur! I knew this was gonna be the perfect opportunity to get a photo without her giving me the death glare caused by her hatred of the flash. I asked Apollo to hold her for me while I took some experimental photos to see how the lighting was going to work.
Zoe was not pleased.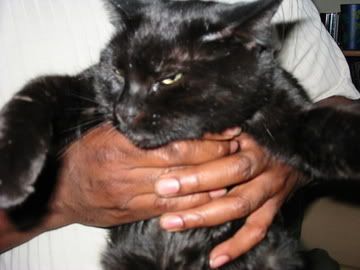 Seriously, he's not strangling her.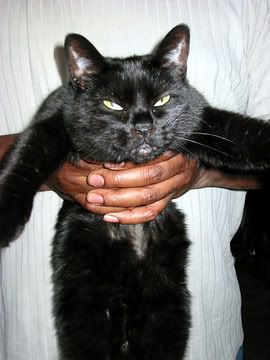 It looks like it, but he was merely holding her. She went limp, clearly not appreciating my attempts to get a Glamour Shot using natural lighting. Zoe was NOT cooperating. Hindsight is 20/20, but I should have noticed the signs of the forth coming danger:
1) pissed
2) limp
3) low, deep throated yowls
4) stink eye from hell
My precious little darling soon had enough! My sweet princess got a wee bit irritable about the situation.
Somehow, Apollo lost his grip.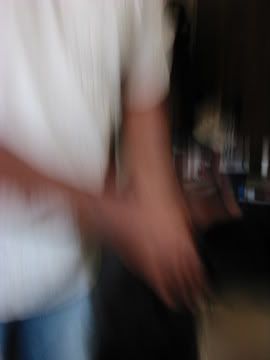 I really don't understand how this could have happened!! She's just an eight pound kitty cat! SHEESH! I expected so much more from a bouncer.
Zoe ended up in her "secret" hiding place. Well, it's not really secret and she's not really hiding. But we humor her royal highness. It's a cat carrier under the fish tank that we have available at all times in case of an emergency...you know, like earthquakes. She always runs in and hides when she's scared or mad. We leave her alone because we want her to feel safe in a cat carrier.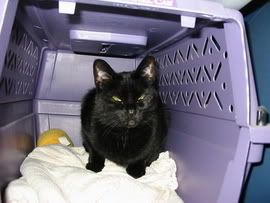 She came out a minute later and let me pet her. Of course, I proceeded to ruin the moment by knocking over my tea, ice cubes flying everywhere and that was the end of that! My delicate-nerved-once-feral little girl took off, but quickly reappeared, demanding to be massaged. You can always tell Zoe is happy by the frantic licking that results from a good rub down. All I have to say is, what is up with her tongue?? It's freakishly long!
Where was Simba while this all happened?
Seriously, he's much too stately for all this rambunctious activity. While he cares about Zoe's well-being, he's just happy to have the cat shelf all to himself!