I've decided I don't have enough knitting projects, so I started a new one. Meet the beginning of Apollo's Manly sweater: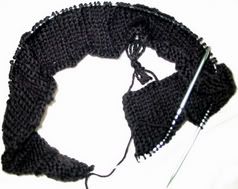 Of course, it's not a real "manly" sweater unless it's black, or at least that's what certain macho men think. So far, the sweater isn't much to look at. I've finished only a couple inches on these circular needles in the past two weeks. It's so boring! But, it's the only knit thing thing a macho man will consider wearing, so I have to make it. I'll probably finish it in August, just when it really starts to get hot. heh
Now, when I calculated the amount of yarn I needed, I realized I wouldn't be able to afford making this sweater with a good quality yarn. I even contemplated the fact that this sweater was going to belong to a man who doesn't know the difference between washing in cold and hot. No wool for him! Normally, I'd be ashamed to admit I'm using this yarn, but I think it's good enough for this particular project. Yarn snobs, avert your eyes: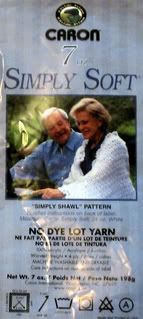 I really don't like how it feels when I knit with acrylic, I much prefer at least a small amount of wool blend. But, this will have to do.