On our second field trip to yarn shops, we decided to visit stores beyond our normal shopping radius. First stop,
The Black Sheep
in
Encinitas
.
First, The Black Sheep has a large parking lot. Not huge like Von's or anything, but since they don't share their lot with any other businesses, I think they can fit...oh, a dozen cars in their lot. I'm just guessing at this one. But seriously, my impression is you will never have to worry about parking. They have a huge door welcoming you into the yumminess that is inside.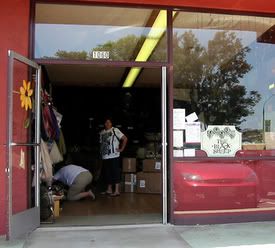 I'm sure that lady was wondering why I was taking her picture. She's standing in front of the expensive shelves of yarn. I saw one label that said $28 and I immediately walked away. Unfortunately, these yarns are completely out of my league. You can see the wall of "Out of Rayleen's League" from this angle: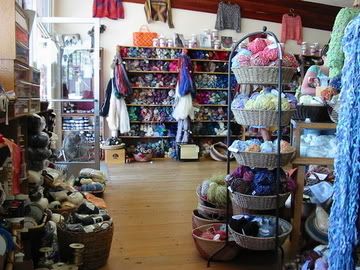 While their website lacks in detail, their store does not! Walking in to the hardwood floored business (hardwood floors added to the whole natural feel of this place), we were completely overwhelmed. Where to start? What to look at?? AAAHHH!! Yarns and accessories were everywhere. Finished projects were displayed artfully on one of the walls. Some of them, well I don't even know what they were. But they were delicious to look at!
I'm not sure if The Black Sheep carries any acrylics. Their thing seems to be specialty yarns. And I'm not talking about the kind you can get at Michaels (I love Michaels!). This is the good stuff!! If you want it, they have it. Even if you didn't know you wanted it, you want it now and you bet they have every color imaginable! I took several photos and truly, they don't do the store any justice.
Laura has a bit of a problem. She likes any soft bulky yarn and has become addicted to
Plush
. I'm thinking of organizing an intervention. She found a display of nothing but Plush and bought two of almost every color.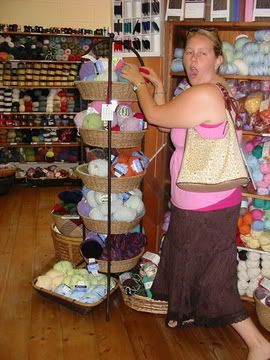 Girl has a problem!! She buys Plush at every store we go to. But I have to admit, Plus knits up soooo nice. It is extremely soft and is the kind of yarn you want to rub on your face. Then again, I'm constantly teased for my yarn/face rubbing antics. WhateverRRRRR! How can you buy yarn without the
face test??
That's just
insane!
The yarn tantalized me with their sweet sirens. Merino, cashmere, silks....AAAHH!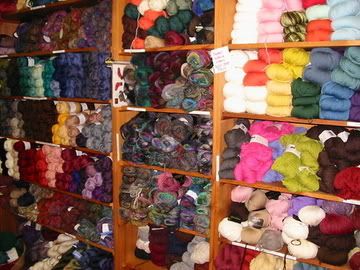 See, I'm easily overwhelmed. Give me an aisle of cereal and I can stand there for 15 minutes trying to decide what to buy. Of course, I usually end up buying the same old thing because it's SAFE but you see my point? I am a terrible decision maker! So when I'm faced with a million shelves of yarn and a decision, I'm in big trouble. First, I must weigh the pros and cons of the fiber, touch it, squint at it, imagine it knitted, smell it, rub it on my face. Then I must fight the temptation to buy it "just because." (Seriously - I have enough yarn that I've purchased for prospective projects. I may need to buy yet another Rubbermaid container for my treasures.) Now I'm trying to buy yarn only for projects I specifically have in mind. This means, I must know *gasp* the yardage. ARG!
Girl, I'm telling you, this stores does
not
help one fight the temptations of buying it "just because." In short, it's like heaven and hell at the same time. Well, at least for someone like me who leans towards obsesive compulsive with neurotic tendencies. (I've also been teased for my overly dramatic ways. WHATEVERRRR!! NO
SOUP
FOR YOU!)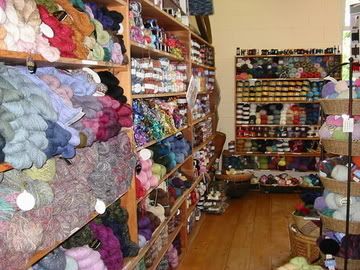 Actually, because I was so overwhelmed I was able to stick to my budget.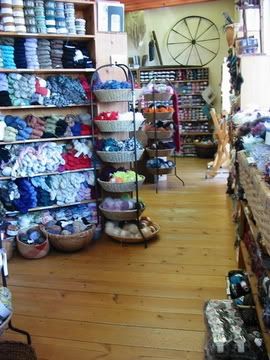 However, looking at these pictures - I must go back...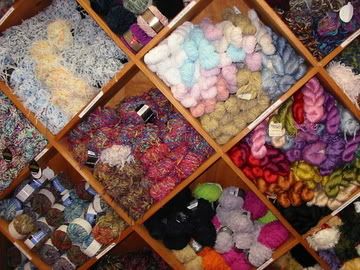 Need yarn...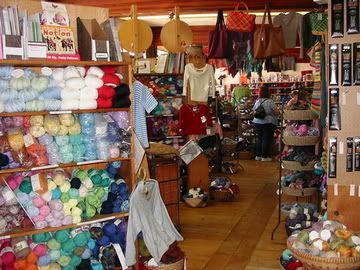 The ladies at the store were very friendly and helpful. I definitely recommend this store for impulse shopping. However, be sure to bring some money with you. It adds up quickly.
As usual I took these photos on the sly. Do you think people mind if they knew I was taking pics for a blog? Somehow, I think it would give them the creeps. Then again, I like the (James Bond music winds up) danger of trying to take informative photos sneakily. I am the Queen of Sneak. hehhe
If you're looking for a good yarn shop with a lot of diversity (no Red Heart), this is the place to visit! Note, they're open
seven
days a week!
The Black Sheep
1060 South Coast Highway 101
Encinitas, CA 92024
(760) 436-9973
Monday thru Saturday 10:00-6:00
Sunday 12:00-5:00