Did you know they have rocking chairs at the San Diego airport? Yeah! Rocking chairs! Also note my grown up Chococat bag. hehehehe. Of course, I fit in perfectly as I sat knitting, rock back and forth. Sad. Very sad.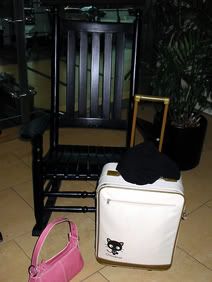 No trip to Vegas is complete without seeing Elvis. Right after I took this shot, he pulled up his pant leg and showed a garter full of $1's. He was really funny. I really don't remember why, I think I was drinking a margarita at this point. Or had finished it.
We managed to spend a lot of time at the MGM because it was at the end of the Monorail and because it was huge. They have a live lion display with different lions available to view at different times of the day. Here Apollo and others look up at a female who's sitting on top of the glass covered walkway. Her trainers are sitting above her.


From a different angle, you can see the glass walkway with people in it looking up at the lion.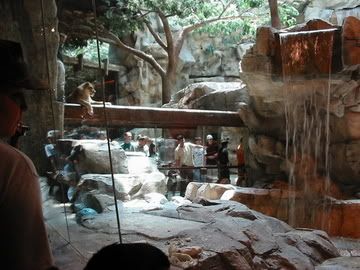 Poor girl, I took a photo of her as she was walking by and forgot to turn off the flash. I'm sure she's used to it though.




We didn't go into the New York-New York, maybe next time. It looked like it might be all crazy like The Excalibur. You can understand why we passed it up.

The fountain in front of the Paris hotel was really nice and refreshing on the 108 degree day.


Seriously, I'm not carrying trash. I just went shopping and bought hair products (ok and other stuff) to quench the thirst of my freaked out hair. I'll tell you, hotel shampoo and desert air does NOTHING for your hair!
One of the sculptures in the fountain.
It was so hot, even the spray from the fountain did nothing for us. We went inside the hotel to catch a cool breeze before heading off for the monorail.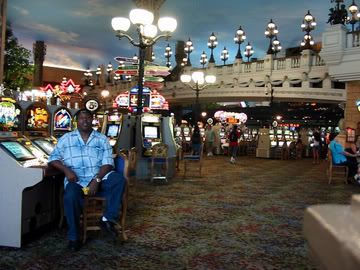 Funny thing about leaving Vegas is you couldn't escape the slots. Even at the airport they were displayed prominently for the addicted. The slots dominated our terminal.
I'll probably edit this later. I'm posting way too late to really make sense.