Now that I have some free time (I'm taking a late lunch at work), I thought I'd tell you guys about the Antique Yarn Shoppe we visited in Poway. This is normally where I'd post their link, but apparently they don't have a website. How can anyone in this day and age not have a website? I could go off on that, but that's not why I'm writing. Of course it's possible I just haven't found the site yet, either.
We three girls went to The Antique Yarn Shoppe on one of our field trips. The owner, Maureen, was very nice. She had a quirky sense of humor that I rather enjoyed. She didn't treat us like some people do...u know, look down her nose at us. We, young women newbies that we are. She was very cool and gave Janet a free pattern for a funky hat that Janet was admiring.
The business is located in a strange area, you might miss it. It looks like it's an office building. Once you locate the off street parking (there's plenty), you would look for this entrance:
Entering, you can instantly tell it's not a big store. Check out Laura. She was well ahead of me, sniffing down some Plush.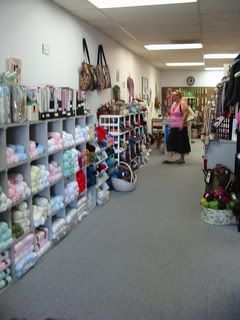 I have to admit. I wasn't impressed at first. But then I realized they had more than just acrylics. The store is comprised of several rooms full of yarn, tables, chairs and finished projects.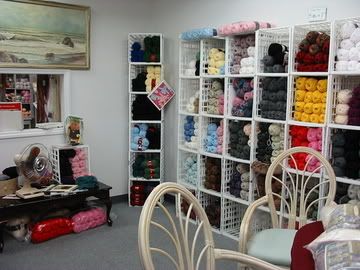 They had a lot of specialty yarns I haven't seen anywhere else.
Not even at Black Sheep,
which we all know has a gazillion different yarns.
The cotton section was fabulous! I also got some really cool ribbon yarn (which was used to create CarolAnn) here that I haven't seen anywhere else.
OK, so this might not look like a large selection but I'm telling you, The Antique Yarn Shoppe is the place to go if you're looking for needles! Especially the hard to find, popular kind! Look at them all! Look at the circular's on that spinning thing on the left. (like my expansive-college-vocab?)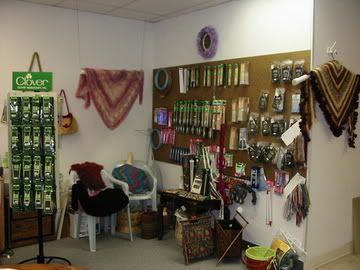 I knew Maureen had a sense of humor when I saw this sign. Only we that are friends of or related to hippies would see the humor. hehehe
More yummy specialty yarn...huh?? What the heck is Laura doing there? This is NOT the Plush section, girly! Oh hey, you can sorta see that funky orange hat that Janet fell in love with!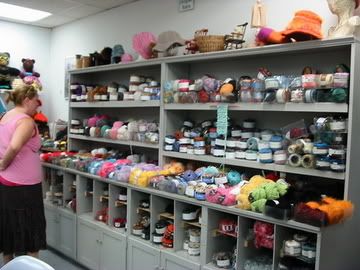 I'm rather disappointed that this pic didn't turn out so well. Janet was trying on the funky hat and "won" a free pattern by allowing herself to be photographed. :) I'll be sure to post pics of it when she's completed it.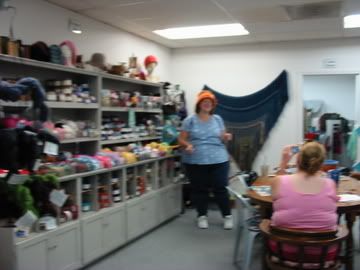 While I don't think the Antique Yarn Shoppe has the largest selection, I did like that they have some yarns I've never seen before. They also have a large selection of Cascade 220, which I love. Black Sheep doesn't carry Cascade 220 and Common Threads has a small selection that is mixed in with the other yarns. I will probably visit The Antique Yarn Shoppe again only if I'm in the area and when I need accessories. Plus, it's always a good thing to support small business owners. (Of course, I'm going to talk about Michaels next...YAY Rayleen for supporting the little guy!)

Antique Yarn Shoppe
12939 Pomerado Road
Poway, California 92064

858-748-4586


Later that day we went to Michaels to look for supplies. Apparently Janet and Laura got so tired of waiting for me (I think I'm a bit infamous about making decisions or rather, not making them) after our long day, so imagine my surprise when I walked around the corner and found them sitting down in the corner on the floor. WHATEVERRRRRR!! Janet was making a center-pull ball out of one of the yarns she was buying from Michaels while Laura giggled like an insane jackal. Note the shopping cart. Yes, we were planning on buying enough stuff that we required a shopping cart. For knitting supplies, people! How sad is that!
OK, so go visit the Antique Yarn Shoppe if you have the chance. Maureen was cool, very friendly and helpful. I know she'd love to meet you.