It's the day before my field trip with Janet and Laura. Wooo! My plot to become a Knitting-Nerdy-Old Lady-in-Disguise and pull my friends into my bizarre obsession is working! MU WA HA HA HAAAA! We're going to two, maybe three yarn stores. Oh, and a couple stops at various Starbucks and a yet unknown knit friendly location.
Of course I had to go to Michaels today - after all, they released a coupon this week. Anyway, I went to Michaels to pick up some knit supplies for Aimee (she lives in a teensy town with NO yarn stores and her only options are Lions Brand and Red Heart with a few plastic needles). Did you know they're starting to sell a much larger selection of
Clover needles
now? Unfortunately, most of the stores I've gone to keep them separate from the rest of the knitting supplies. This seems counter productive to me. The Clairemont store had a small selection of Clover needles on an end cap, the metal knitting needles and crochet hooks were on a separate row and then WAY over by the restroom, was a huge section of Clover needles on the wall! WEIRD!
FYI for you San Diego knitters, the Clairemont store is clearancing the size 11, 16 inch circulars!
Only $5.00!
I, of course, picked up a couple for myself and Aim. Funny thing is, Janet just called me while I was writing this to ask if I needed any size 11, 16 inch circulars. Hehehe...seems she's at that very store right now!!
So I was walking around the end of the store and I found several
Klutz Knitting Kits!
Now, I know it's written for kids but this would be
excellent
for an adult who's just learning! Believe me - I am one of those people that needs pictures, drawings and fun verbology! This book would be perfect for someone like me! Er, that is, if I was learning to knit. :)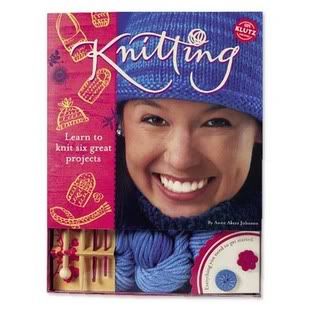 While out and about, I also picked up a few pet supplies for the zoo. Check out these cute Barbie cat toys I got for Zoe and Simba!
HEEHEE!! Of course, the fact that they're Barbie is only funny to me. The cats don't really care what they look like. Both mice were promptly hidden in various places by both cats for future eating.
It appears PetSmart and PetCo both have a whole line of Barbie products!! Check out this
Princess Canopy Bed!
If you go to PetSmart's site, you have to do a search for "Barbie" to find their products. The site does not generate it's own Barbie url, otherwise I'd include it for you. I can't find them on the PetCo site, though I did buy these mice at their store.
Somehow, I don't think Zoe would appreciate this canopy bed, princess or no.