I've been working on several projects at once and have become so overwhelmed, I've decided to focus on just one for a while. I present to you the purse I call The CarolAnn.
Aight, so she isn't much to look at, but I know she's going to be beautiful when I'm finished. I normally I wouldn't pick out such a bright color combination, but this multi-colored ribbin yarn is truly winning me over.
Named after an ex-coworker who gave me the idea on the theme of this purse (Asian), here's a picture of the seed stitch I'm using to give this yarn elasticity.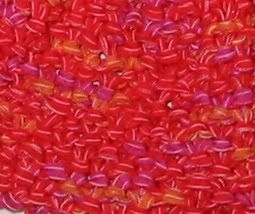 Yes, someday this will be a purse. I promise. :)