Phase one of Operation Pink Thing is complete. Phase two to commence tomorrow evening. I'm sure nobody else is as excited as I am, but as usual I will force it on you! Like when people say, "What are you making?" and I begin with this long story about the yarn, the yarn store, the pattern, the stitch complications, how I frogged it, etc. And the look on their face says, " 'Hat' would suffice." Anyway, I digress...
Speaking of pink things, I went to the San Diego Zoo Tuesday. I can't believe how much it's changed in the past couple years! Some pink things I saw there to commemorate OPT: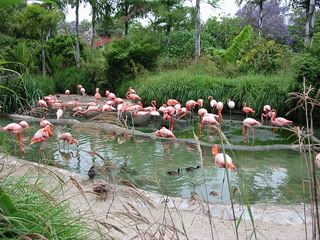 Did you know the flamingo's nest on these mounds of poop and mud?
There was only one baby. It looked like a cotton ball with black legs and beak. It will eventually turn gray, and at approximately three years old will turn pink.
And then there were the baboons. Beautiful in a disturbing way. The fact that the watering pool was made in such a way the baboons were forced to bend over with their rear-ends facing onlookers was not lost on me. I didn't manage to get a photo of this guys face, but it wasn't pink anyway. I'll get better ones later. There were other things on the baboons that were pink, but unless you wanted a close-up of female baboon genitals, I'm sure this one is good enough.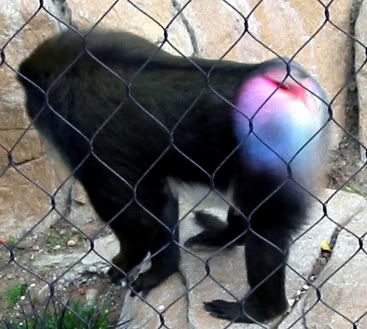 I'm sure this flower has a name, but I didn't have enough foresight to find out what it is. Is it some sort of hibiscus? Anyway, it's sooo beautiful. I love the colors, I'd love to use this on my blog.