HATS!! Laura's became a hat-knittin' fiend!
Here's her first hat AND felted item: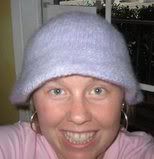 And one of her Plush hats.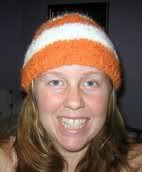 She is absolutely IN LOVE with
Berroco Plush.
She buys it whenever we're at a new store and she see's a new color. Give her a set of needles, a ball of yarn, and you'll get a unique "Laura" in return! Updates on her line will be posted...