Tonight, er, this morning, I work from 12:00 AM to 4:00 AM providing excellent customer support to sport fanatics. Now, after all this hard work of turning myself from a night owl to a day person, this is going to ruin all my efforts! I'm sure I'll be able to stay awake, but will I be able to provide helpful support? HAHAHAHAH!!! I already feel a bit crazed just thinking about it. An excellent combination when providing computer support.
Speaking of crazy... Laura, Janet and I went on our first Yarn Store Field Trip. We embrace our Knit-Nerdom with pride and have decided to visit all yarn stores in our area!! Our first store was
Common Threads
in Encinitas, CA. It wasn't hard to find, but you could miss it if you weren't paying attention due to the small signage. The only parking is on the street though you shouldn't have to park far.
My first thought when I walked in the store was, "Horror upon horrors! What happened here??"
The yarn is grouped in sections such as acrylic blends, felting wools, cottons, and more. (I didn't learn this until much later) But other than that, it's all sorted by COLOR! I freaked out a little bit.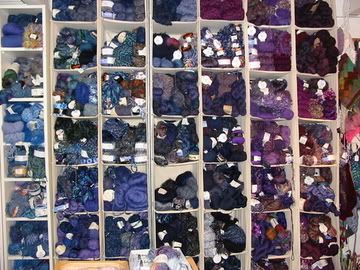 I spent two hours combing through the yarn.
At one point, I asked one of the very friendly ladies in the store for some lace yarn. She said I needed to look in the color section I was interested in. I was stunned.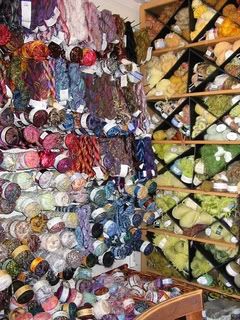 Honestly, I did try to focus.
They had a tremendous supply of novelty yarns.
At one point I had selected some denim looking yarn in this cotton section.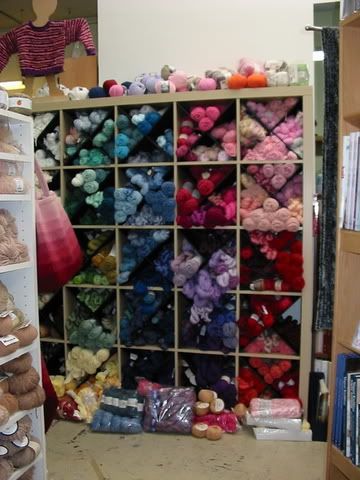 But then I got distracted by these beautiful yarns and put the cotton back.
After a while, the yarn all started to look alike.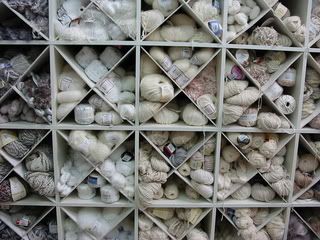 It was about this time I started to figure out the yarns were not only divided in sections according to color, but also by content (almost two hours later - I'm a bit dense sometimes).
Even Janet was overwhelmed and started yawning...IN A YARN STORE.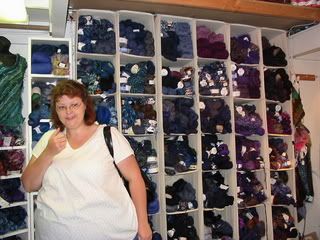 Fortunatley, there was this beautiful kitty, Coco (I think) the Ragdoll Siamese, that allowed me to take her photo. She snuck away after I pet her. A bit of a diva (in a cat?? NO WAY).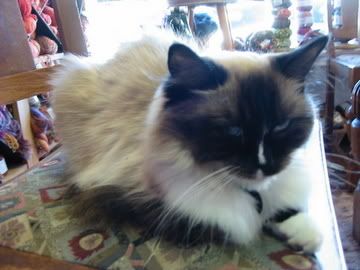 I guess you could say I was pretty overwhelmed with the way the store was organized. I personally wouldn't design a store like this; if I didn't know what I was looking for it would be hard for me to shop here. However, the combination of textures and colors was much like candy - an amusement park for lovers of yarn. The staff was friendly and helpful and even stayed open late while we looked through patterns and yarn. There is much more to the store, but I couldn't post all the pictures. I guess you could say there's a LOT crammed into a small space. One irritant was that we were constantly bumping into each other or strangers because the space was so narrow. It broke our concentration while we were digging through the yarn trying to find matching dye lots, etc. Because I was so overwhelmed (where do they put varigated colors? How do they decide which color section to put a yarn that has several colors??) with the layout, I ended up not making any purchases. However, I will defnitely visit this store again and recommend you visit it if you're in the area!
Common Threads
466 S. Coast Highway 101
Encinitas, CA. 92024
760-436-6119
commonthreads@fiberartshop.com
Store hours: (Closed Mondays) Tues. Thur. Fri. & Sat. 10:00-5:00 Wed. 10:00-7:00, Sun. 12:00-5:00
Stay tuned for pictures from
The Black Sheep,
a few blocks down the road from Common Threads.