Janet, Laura and I have temporarily changed the location of Tuesday Night Knit. Rather than meeting at Janet's house and tormenting her poor husband with chick chat and incessant chatter about knitting, we now meet at
The Living Room
over by San Diego State.
Laura has graduated from scarves!! Of course, she still makes them but now her new obsession is hats. Now that she has conquered double pointed needles, nothing can stop her! Here she is finishing up the last couple stitches:
Of course, this hat needed to be felted, so when she put it on it was HUGE! Now you may be wondering, did Laura just get get home from Cinco de Mayo or from work at a Mexican restaurant? Well that's what I thought! Forget that it's June 13 and she doesn't even work in the food industry! Apparently, she was tired of her nice work clothes and borrowed her Mom's muumuu. (I'm edumacated but I still had to look up the spelling of that word!!) I say, HEY if you're comfortable, why not? Of course, now I'm hungry for carne asada.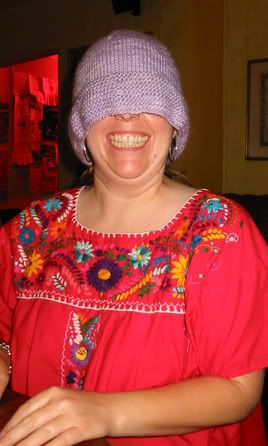 She's so proud. :) Janet has also become the Sock Queen. She's making socks for everyone in her family. Her latest pair involves a delicate lace from the top to the ankle. I can't wait to see the finished product!
I myself am working on a Not So Secret Pink Thing so I can't post any pictures. But I will say EEEEEEEEEEEEEEEEEEEEEEEEEEEEEEEE!!!! I'm really excited about it. :)
We usually meet around 6:00ish. So if anyone wants to show up and join in, come on over!