As you can see, my blog is constantly changing. OK smarty, NOT the posts, the title! "In the pond" just wasn't working for me, so I changed it. I'd like to get some sewing labels made with this new title on it for gifts I make people. Wouldn't that be cool?? In a sort of nerdy way? :) Yes, I'm easy to please. Ok, not easy but...oh forget it.
Anyway, now that I have my new blog title, I'm looking for a new design. Of course I've yet to conquer that boring look up there...blech, a sans serif in a rounded corner box. *sigh* Listen, I'm still learning. But eventually I WILL change the template! Hey, I'm just pleased I can create links. Er, whatever they're called.
But as usual, I digress. So, I'm looking for design ideas. You know, something simple. Maybe a cursive "Uniquely Rayleen" with a small logo next to it. An animal? A flower? Any ideas?
Which reminds me, isn't this beautiful? I love these simple trilliums that grow in the wild at home.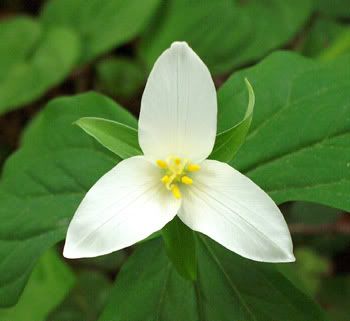 Now that I've had five hours of sleep, I think I'll go outside in the sun. It's not hurting my eyes any more and I don't feel so queasy. :)