Sophie, from Black Sheep Bags,
isn't quite dry but I just HAD to take some pics and show her off!! I just love the way this felted purse turned out.
Here's the before and after pics: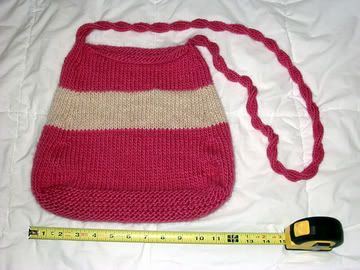 I had to add the creme because I didn't have enough pink (purchased on a whim). I'm thinking about embroidering some flowers on the white area, we'll see. I'm already making plans for my next purse. With this purse, I used Lamb's Pride which has 15% mohair. Next time I'd like to try Cascade 220 (mohair free) so I don't have so much fuzz with my end product.
Oh yeah, and I didn't put this in the wash either. I swished it around in the tub for awhile. I didn't think it was done because in the water you could still see all the stitches. But when I started to gently squeeze out the water, I noticed that the stitches seemed to magically disappear. I love it!!
I can't wait to start the next one!!!