Simba loves yarn.
Yes, he has quite the discerning taste. He's started avoiding my acrylic yarns and heads straight to the wool. After some kneading, chewing, and sniffing, he settles into a trance similar to Catnip Stupor. He's becoming quite the snob with all things stringy.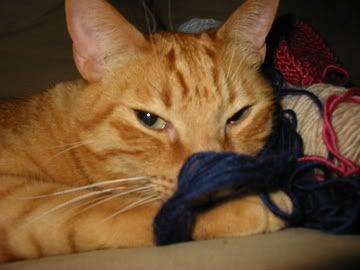 It's not easy being Simba. He's often concerned someone will take the yarn away from him while sleeping. Better to keep a good grip on it. Maybe he and Zoe can form a militia to protect their precious yarn? Which reminds me, Mom is being interviewed today by a local television station re: militia. More on that later.
Speaking of Zoe and militia, here she is practicing her best Stink Eye.
Zoe doesn't need a militia. Nobody bothers her. Why? Because she's too fast. She has perfected her super power of becoming the Black Streak whenever a stranger enters the room. In fact, most of our neighbors don't even know we have two cats. I guess you could say Zoe is a tiny bit skittish. I think it's strange she doesn't react to 'ghetto birds,' fire trucks, or a sudden increase in television volume when she's sleeping in front of the speaker. All she needs to turn into the Black Streak is a soft knock at the door. Of course, if someone does pick her up, or in the case of Simba, mess with her, she becomes the Black Ball of Furry. This is of course, after she's enlisted some passive aggressive extremely loud and obnoxious meowing and foot-in-the-face. And Simba is no stranger to her choke hold either.